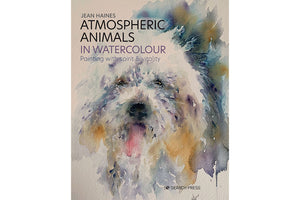 Jean Haines
Atmospheric Animals in Watercolour
Available in the following languages:

English
If you would like to pre-order my new book Atmospheric Animals in Watercolour click here, and if you add in the coupon code DD110 at the basket stage you will receive a discount of 20% on the retail price of £19.99.
From domestic cats and dogs to wild lions and giraffes, bestselling artist and author Jean Haines shows the reader how to bring a touch of life to their animal artwork. Known for the vibrant colours and exciting, innovative painting techniques that she brings to her work, Jean's latest book is a course that invites beginners and experts alike to share a journey through painting animals from around the world.
For lifelike results, painting animals requires a delicacy of touch and a deep understanding of their lifestyle. Jean presents a course for the reader, working from simple one-paint artworks through to more vivid paintings that incorporate exciting textural effects. Using lessons from nature to help bring the reader closer to the animals, Jean shows the reader how to bring vitality and that vital sense of life to the work through step-by-step instructions.
Suitable for all abilities, from first-time painters to experienced artists, Jean shares all the materials and secret techniques she uses, and provides a wealth of expert tips and advice inspired by the animals themselves, helping the reader to progress and find their own path. Jean uses Daniel Smith materials in this book but other materials can be used to achieve similar results.
Scattered throughout the book are dozens of Jean's wonderful paintings; showcasing a veritable Noah's ark of different animals – artists of all abilities will find these inspiring and encouraging.