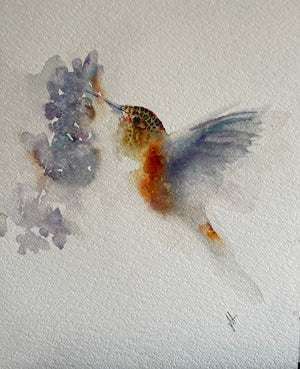 This Hummingbird painting, the original from my book "Atmospheric Animals in Watercolour" inspired many hummingbird paintings following my online tutorial on this theme. 
Hummingbirds are amazing adaptable creatures, able to fly in all directions. They represent change. And right now the world needs great changes. In how we treat each other. The aggression in Ukraine is seeing unspeakable atrocities but I strongly believe that Ukraine will rise again and fly high, soaring more beautifully than ever before. 
Fly high. With luck and good fortune. 

A very special piece that is hard to part with.